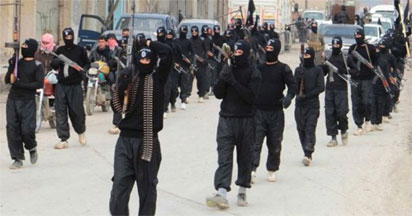 By Evelyn Usman
Lagos - President of Association of Industrial Security and Safety Operators of Nigeria, AISSON Dr. Ona Ekhomu, yesterday, advised the Federal Government and security agencies to be on the alert and investigate returnees from Libya who claimed to be Nigerians, with a view to preventing ISIS fighters from infiltrating the country.
Expressing surprise at the number of migrants that have returned from Libya, Ekhomu, in an interview with Vanguard, said given the threat of infiltration of ISIS fighters into the country, it was necessary to prove the identities of the returnees before releasing them.
READ ALSO:
Nnamdi Kanu: The Man Chosen To Restore Biafra And Liberate His People
He said: "Some of these people might have pledged Bayat to ISIS. They need to be separated out from those who migrated for economic reasons," he added.
He disclosed that most of the returnees did not have travel documents and should not be merely assumed to be Nigerians, since it was not possible to identify a Nigerian by face.
To ascertain their true identities, he suggested that questionnaires should be drawn up to enable the returnees prove their national identity. "These should include questions about their date of birth, place of birth, LGA, name of their traditional ruler, primary and secondary school attended, ethnic nationality, native language spoken. etc. In order to discern their purpose for migration, they should be questioned about the source of funds for their trip to Libya, "All information provided must be quickly investigated, verified before they will be cleared to enter the society."
READ ALSO:
Biafra: Buhari Destroying Nigeria, Hurriedly building railway to Niger Republic, While Nigerian Citizens Go Numb
Describing President Muhammadu Buhari's efforts at ordering the repatriation of the Nigerians as a move any responsible government should take, he said: "however, the Government must again do the "responsible thing" of ascertaining the true identity of these returnees as there is a high probability that a few of them may be ISIS Fighters escaping from Libya, or coming to Nigeria to execute a possible terrorist plot. Nigeria has too many active killing fields right now and does not need the threat of ISIS infiltration."
SOURCE