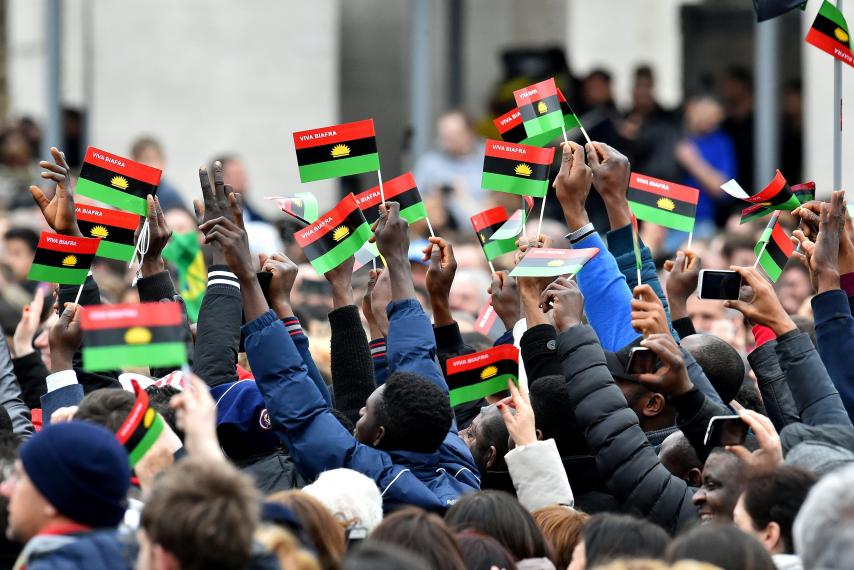 By Victoria. O. C. Agangan | BIAFRA TIMES
JULY 5, 2017
Now is the time for sober reflections as we rejoice in the knowledge that Almighty Chukwu Okike has got our back.
We must not become jelly livered, careless or overridden with joy because while the rich man sleep, the enemy went and planted tares in his garden.
This is a time for consciousness and when we must girt our loins for the struggle with every breath in us. We must project to pursue with vigour our goal until we achieve our freedom.
In any department you are attached to, tighten your belt like warriors, ever battle ready because a new phase has been ushered in and we are yet to get our goal. This warfare is not going to be easy but the strong willed will excel.
Our sit at home brought about a quit notice, now we are aiming at a no election campaign which has already recorded 80% support but we cannot rest on our oars, hence sharks attack unexpectedly.
As soldiers, be at alert and be attentive to any kind of development or information in your vicinity. Writers, security, musicians, etc., we need all hands on deck, no one is exempted. Every bona fide Biafran must get involved and be on guard, sharing information on any strange movements, meetings, gatherings or faces. We must not slack our guard.
We cannot afford to be besieged in our land; we must not be taken unawares. This is the time God has affirmed and the enemy knows this. He will try his best to destroy us but we must resolve to continue.
As we hearkened to the clarion call with much zeal, with the same mind, let us encourage each other until we gain our freedom. We must not allow the death of our slain brethren be in vain, we must not endanger our future by trading for gloom or doom.
We can only preserve to restore Biafra by not looking back or renouncing our decision, disallowing distractions and strictly matching onward with stern determination in the face of any intimidation.
This is the time to be more resolved and not relaxed. For with God on our side, victory is sure.
We are his vessels, his weapons, and mouthpieces, therefore pick up the trend, don't look back. Rein into various departments. Let us multiply our efforts.
If you were discouraged, encourage yourself now, if your bones are weakening, speak to them, for God has sided with us and has taken this step with us.
We are going home to Biafra! Are you in or out?
THE BIAFRA TIMES