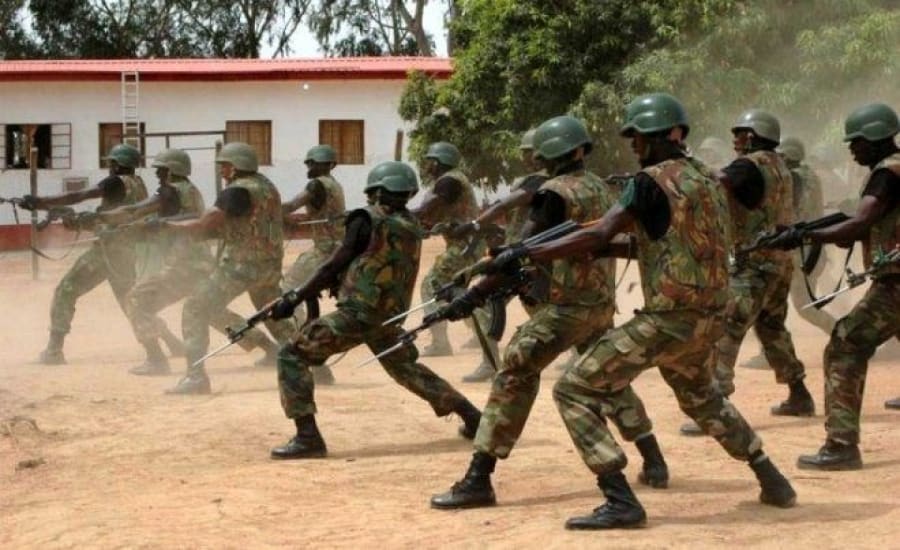 By Victoria. O.C. Agangan | Biafra Writers
September 17, 2017
Without the hand beating the drum, it would not produce any sound. The Nigerian government abandoned the Boko Haram terrain to come down to terrorize, intimidate and murder by bullets and arrows peaceful, innocent, law-abiding Biafran civilians in the Eastern region because they felt safer here and will be rewarded for annihilating Biafrans.
What Biafrans are asking for, is within the ambit of the laws, both nationally and internationally. We are surrounded with heavy arms and armory, professional killers of sorts in national uniforms, who only derives pleasure in murdering helpless and defenseless citizens with gunshots, yet they chant, "One Nigeria." Let them declare their real interest in the East, the oil, yet they claim to be saints when their greed surpasses their being.
The handwriting on the wall of Nigeria was clear when Buhari returned and made a-less-than ten minute national address, fully loaded with threats for IPOB. He almost spoke of nothing else.
Read Also:

BIAFRA: IPOB IS LEGITIMATE, AND THE MOST IRENIC MASS-MOVEMENT OF BIAFRANS AROUND THE GLOBE
Then, was the meeting where military chiefs from the northern region gathered but exempted some regions. They sat to plan the elimination of a particular boil(Nnamdi Kanu) in the scrotum sac of Nigeria but God exposed their plans, then here came the conniving slave governors from the East seeking for hypocrisy laden talks, having arranged for the assassination of a great Hero whose commands were obeyed willingly and without gunpowder by millions.
The Lion of Biafra who has proved many critics wrong in his resolve for Biafra. They knew he would say "No," so they planned to meet with him and ensnare him for the slab, Chukwu Okike Abiama, revealed their plans beforehand, so they stylishly brought in military pythons to dance in his State of origin, stylishly towards his abode, to finish him off, but they forgot that BIAFRA owns Kanu and not the other way round.
The strategic curfew declared by the Abia State government which accorded the murderous Nigerian army more liberty to soak our lands with innocent blood, including the torture and killing of our youths at Isialangwa junction, resulting in the sporadic shooting of armless residents without provocation, were all part of the python dance?
Testing armory as claimed in their initial attempt to kill Mazi Nnamdi Kanu, depicts their evil intent as parades of such nature are not conducted in residential premises.
Read Also:

Biafra: Police Raids Kanu's Home, Loot Properties To Erase Evidences Of Military Invasion
The deafening silence of the so-called political leaders who desperately want our votes to continue eating the crumbs from the so-called national cake, attest to that. While they concurred to slay their own like Judas Iscariot, the northern agenda rode high walls.
Mr planner president, master for nobody but all the north/Arewa, exchanged NNPC management with his kinsmen. Now their mission fully accomplished and power as desired fully returned to the north in all podiums, they came in for suppression and destruction.
Genocide has been committed on us, this is sacrilege in our lands. Now, who will agree to be in this contraption willingly or dying? I'm sure not a Biafran!
Who will come to spread in the sun as washed clothes to cast a vote again in Biafra land? I am sure not a real Biafran! In as much as, they have failed to kill us all, both at home and diaspora, they have woefully failed.
Nigeria is a mockery of a nation! She has failed to quench the Biafran ideology but has made her gloss appear!
I see Biafra striding in majestically and there is nothing anyone can do about it. All hail Biafra!
Edited By Chukwuemeka Chimerue
Publisher: Charles Opanwa
The Biafra Times